MagicTree™ | Decoration Toy
✔ Free worldwide shipping
✔ Customers give us a 9.6/10
✔ Not good? Money back guarantee
✔ 7 days a week customer support
LET YOUR CHILD EXPLORE THEIR CREATIVITY!
The holidays are upon us again, the most wonderful time of the year. All children look forward to this all year, and decorating your home together with the kids is of course the most fun there is!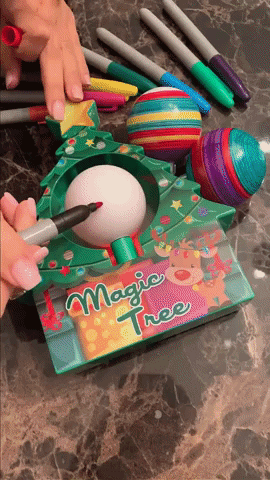 WHY IS THE MAGICTREE™ THE IDEAL TOY FOR THE HOLIDAYS?
✔ NEW AND CREATIVE
Forget the standard decorating routine you do every year, amaze your child with our amazing MagicTree™ and let them have more fun decorating!

✔ LIGHT & MUSIC
Get your child already in the Christmas spirit, with the built-in Christmas songs and Christmas lights that play the MagicTree™.

✔ THE PERFECT GIFT
Being an ideal activity for during the holidays with the grandparents, friends, parents and siblings, this is the most fun idea for during the holidays.

✔ DECORATE & BEAUTIFUL MEMORY
The MagicTree™ makes the most beautiful and unique Christmas balls available. Not only will your child love having their own homemade Christmas ball hanging on the tree, but it's also a great keepsake for later.

✔ MULTI-PURPOSE USE
The MagicTree™ is not just for decorating Christmas balls, it is also useful for other holidays such as Halloween and Easter. You can also use it as a normal decorating toy.

✔ SAFE TO USE
The MagicTree™ is child-friendly and there are no hazards in its use. The markers that come with it are non-toxic, and therefore not harmful to your child either.
Let your child look forward to the holidays even more, and let them discover their own creativity. Also, there will be no mess, which in turn saves you clean up work. Discover how much fun a child can have decorating the house with their own homemade crafts! The MagicTree™ is powered by batteries, and has a durable design so it can be used for a long time.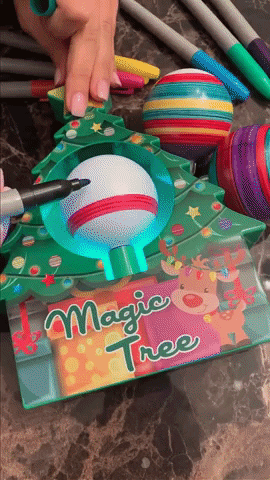 PACKAGE INCLUDES
1x The MagicTree™
24x Decoration Balls
8x Non-Toxic Markers
WE OFFER EXCLUSIVE PRODUCTS WITH LIMITED STOCK. OUR PRODUCTS ARE NOT AVAILABLE IN STORES.
✔  More than 2480+ satisfied customers have gone before you that we have been able to help.
✔  We stand behind our products 100%. We will ensure that you are always satisfied with your purchase.
✔  We always offer free shipping and our packages are prepared for shipment the same day before 11:59 pm.
✔  We are committed to providing customer service 24/7 for all your questions and/or complaints.
✔ Your package will be delivered to your home within 14 days free of charge.

✔ You can always track the package with the tracking number that you receive by email.

✔ Every order is insured. This way we can guarantee that you can always receive the package in the right condition. All packages are protected against theft, lost and damage.
✔ We have a 30 days return policy. Contact us at info@up-goodss.com and we will process your refund as soon as possible.
100% Money Back
Guarantee
30 Day Money Back Guarantee