PowerBlock™ | Removes Stubborn Residues
✔ Free worldwide shipping
✔ Customers give us a 9.6/10
✔ Not good? Money back guarantee
✔ 7 days a week customer support
MAKE SURE YOUR GRILL ALWAYS LOOKS GROOMED AND HYGIENIC!
Our PowerBlock™ are made of 100% ecological material which is odorless and non-toxic, does not absorb grease and gunk and is safe for people, animals, plants and water. It will not scratch your ceramic tiles and metals, the PowerBlock™ is your safe solution.
BENEFITS
✔ EASY TO REMOVE DIRT
The tremendous power of our PowerBlock™ makes it very easy to remove all dirt from your grill or pan. No force is required, the PowerBlock™ does all the work for you.

✔ SAFE TO USE
The PowerBlock™ is made of durable and ecological material. So it's good for nature, and safe for all your loved ones. Also, anyone can use it easily. Also, it does not damage the materials where you use it to clean.

✔ LIGHT WEIGHT
The PowerBlock™ is made of light material, so it will not be too heavy for anyone to use. Even if you accidentally drop it, you don't have to worry about your toes. It also has a non-slip grip so it can never slip out of your hands.

✔ WIDE USE
The PowerBlock™ is not only easy to use for your grill, there are many other uses for which it is served. For example : cleaning your oven, utensils, and enameled surfaces.

✔ SAVES A LOT OF MONEY
Forget all the expensive devices you have to buy to get your materials clean, the PowerBlock™ is an inexpensive alternative with tremendous power.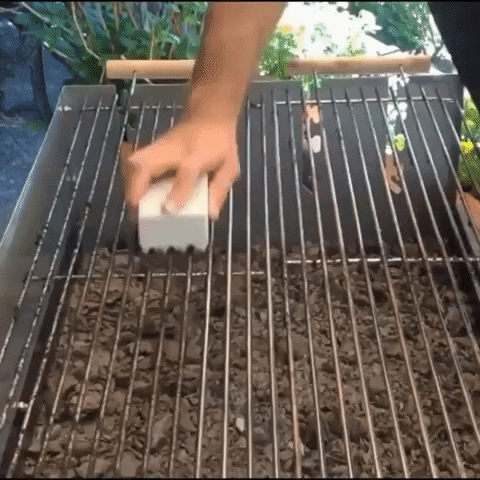 There are no bristles or spines to break off and get into the food. cleans the grill much easier and more thoroughly than a brush, and you can blow off the dust particles or wipe them off with a wet paper towel and water after use.
PACKAGE INCLUDES 
1x The PowerBlock™
WE OFFER EXCLUSIVE PRODUCTS WITH LIMITED STOCK. OUR PRODUCTS ARE NOT AVAILABLE IN STORES.
✔  More than 2480+ satisfied customers have gone before you that we have been able to help.
✔  We stand behind our products 100%. We will ensure that you are always satisfied with your purchase.
✔  We always offer free shipping and our packages are prepared for shipment the same day before 11:59 pm.
✔  We are committed to providing customer service 24/7 for all your questions and/or complaints.
✔ Your package will be delivered to your home within 14 days free of charge.

✔ You can always track the package with the tracking number that you receive by email.

✔ Every order is insured. This way we can guarantee that you can always receive the package in the right condition. All packages are protected against theft, lost and damage.
✔ We have a 30 days return policy. Contact us at info@up-goodss.com and we will process your refund as soon as possible.
100% Money Back
Guarantee
30 Day Money Back Guarantee